Lincoln, Nebraska – The delicate balance of our ecosystems relies heavily on the tireless efforts of bees, crucial for pollination and the production of essential resources like beeswax and honey. The preservation and responsible management of these remarkable creatures is more important than ever. 
The Interceptor Pro Honeybee Swarm Trap offers a groundbreaking solution revolutionizing bee swarm capture and relocation. With its patented design and exceptional efficiency, this innovative trap has swiftly gained popularity, surpassing traditional alternatives. Offering unparalleled convenience and effectiveness, The Interceptor Pro Honeybee Swarm Trap is simplifying the safe capture and relocation of honeybee swarms, ensuring the sustainability of ecosystems and the preservation of these invaluable pollinators.
The Interceptor Pro Honeybee Swarm Trap continues to dominate the market due to its superior design features, meticulously crafted to maximize functional efficiency while minimizing assembly, installation, and operational requirements. Even individuals with limited beekeeping knowledge can effortlessly install a fully functional unit in under ten minutes, thanks to its user-friendly design.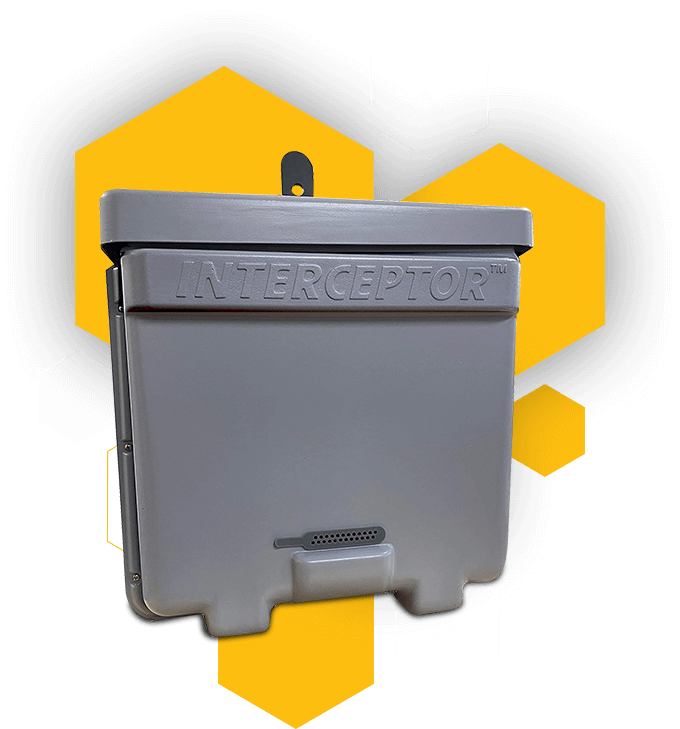 These traps guarantee exceptional durability, withstanding the test of time and necessitating minimal maintenance. The absence of the need for painting before installation further enhances their convenience. Customers who invest in these traps can rest assured that they are receiving unparalleled value for their money, exemplifying the commitment to quality and longevity that defines The Interceptor Pro Honeybee Swarm Trap.
The Interceptor Pro Honeybee Swarm Trap stands out for its lightweight construction and ingenious design that utilizes standard Langstroth hive frames, granting unmatched convenience in terms of mobility. These traps can be effortlessly relocated from one location to another, ensuring flexibility and adaptability. Moreover, their spaciousness sets them apart, providing ample room to capture and accommodate honeybee swarms of all sizes. With a generous total volume of 42 cubic liters and the capability to sustain up to five Langstroth frames, these traps offer exceptional capacity. 
Additionally, the trap's waterproof and UV-resistant properties guarantee long-lasting durability, shielding the captured swarms and ensuring optimal hive conditions. The advantages solidify The Interceptor Pro Honeybee Swarm Trap's position as a leader in swarm trap technology.
"Often copied but never duplicated. The craftsmanship and attention to detail in the making of these swarm traps are off the chart. This will make the 7th of them that I have purchased. Last year alone, I captured six swarms with The Interceptor. Very detailed assembly Instructions, all stainless steel assembly hardware to ensure long life and same-day shipping! How could you not say yes to that?" wondered one loyal customer. Interested in kick-starting or giving your bee-keeping project a long-overdue shot in the arm? Order your swarm trap today from The Interceptor Pro Honeybee Swarm Trap's website. 
Interested individuals can learn more about our patented product by contacting a representative at (402) 314-2270. The Interceptor Pro Honeybee Swarm Trap is located at 5201 Bluff Rd, Lincoln, Nebraska, 68514, USA. 
Media Contact

Company Name
The Interceptor Pro Honeybee Swarm Trap
Contact Name
Bob Frye
Phone
(402) 314-2270
Address
5201 Bluff Rd
City
Lincoln
State
Nebraska
Postal Code
68514
Country
United States
Website
https://interceptorswarmtrap.com/