Youngsville, NC – Whether a homeowner is downsizing, starting a renovation project, or desiring to refresh their living space, furniture/junk removal and disposal is daunting. Environmental consciousness is more crucial than ever, as dumping waste in landfills adds to the ever-growing problem of releasing hazardous substances into soil, plants, and trees. Moreover, the logistics of hauling heavy furniture/junk, especially without an appropriate vehicle and necessary assistance, adds to the challenge. Fortunately, Blake Waste has many methods available for furniture removal, including a comprehensive guide on How to Remove Junk From Home.
Homeowners can donate their old or slightly used furniture, appliances, and items to de-clutter their spaces while giving back to the community and helping the less fortunate. Donating to local charities, homeless shelters, non-profit thrift stores, and transitional housing programs instead of throwing items away extends their life and minimizes waste. When selecting charity donations, the dumpster rental company advises homeowners to check their location guidelines, contact an organization for their donation process, clean/prepare the furniture, and obtain donation receipts for income taxes. 
While a donation is a sustainable method, homeowners can get rid of old, damaged, or unwanted items using convenient and efficient services from a junk removal company that hauls away large and bulky items, saving them the hassle of transporting or disposing of them. According to Blake Waste, a junk removal company must have proper licensing/insurance, transparent pricing, eco-friendly disposal practices, a reputation for client service, recycling/donation options, and flexible scheduling. It advises homeowners to research multiple companies, compare services, request furniture removal quotes, and ask for references. Alternatively, homeowners can opt to sell their junk, which is still in good condition, in garage sales, social media platforms, secondhand marketplaces, online classifieds, or consignment stores. 
When disposing of items that are no longer usable or in poor condition, throwing them away may be the most appropriate option. In such instances, residential dumpster rentals provide a convenient, time-efficient, versatile, and less costly solution. The Raleigh Residential Dumpster Rental Company ensures homeowners choose the right size dumpster for their junk removal, follows responsible waste disposal practices, uses proper dumpster loading techniques, sells/donates usable items, avoids overfilling, and considers suitable alternatives like recycling. On Blake Waste's website, homeowners can learn about getting rid of junk fast and removal services costs while exploring prohibited items, extra heavy haul stipulations, and tips for loading a rental dumpster.
Adam McGuyrt, the company owner, began his career in the US Marine Corps in 2007 before he started a small landscape business while attending NC State University. His experience in the military and success as a business owner allows him to lead teams, prioritize client care, and organically maintain relationships with communities in Wake, Granville, Franklin, Johnston, and Durham counties where Blake Waste operates. 
Visit the company's website to read the comprehensive guide or rent a dumpster. They are at 5221 NC Hwy 96, Youngsville, NC, 27596, United States. For any inquiries, call 919-271-8675.

Media Contact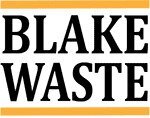 Company Name
Blake Waste
Contact Name
Adam McGuyrt
Phone
919-271-8675
Address
5221 NC HWY 96
City
YOUNGSVILLE
State
NC
Postal Code
27596
Country
United States
Website
https://blakewaste.com/